Who Should Take This Training?
---
The target audience is for individuals that:
Conduct job tasks in laboratory areas;
Range in scientific ability from novice to expert; or
Conduct job tasks with small quantities (<100L) of hazardous materials.
The course contains information pertaining to the following legislation:
29 CFR 1910.1030 - Bloodborne pathogens;
29 CFR 1904.8 - Recording criteria for needlestick and sharps injuries;
29 CFR 1904.9 - Recording criteria for cases involving medical removal under OSHA standards; and
29 CFR 1910.1027 App F - Non-mandatory Protocol for Biological Monitoring.
We also have a non EMS-CE Standard Version version of this course for those who do not need Continuing Education Credits.
Course Objectives
---
The objectives of this EMS-CE (3 hours) - Laboratory Bloodborne Pathogens (Needle Sharps Program) course is to assist employers with compliance of US legislation by instructing laboratory employees that could become exposed to blood or other potentially infectious materials on the disease-causing effects of pathogenic organisms.
The training outlines methods by which a laboratory worker can determine their risk of exposure, the precautions that should be taken to prevent personal and third party contamination--including the concept of universal precautions--and the procedures to follow should an exposure occur. Furthermore, it covers the components required to achieve a successful needle sharps program, and the protocols for the treatment of contaminated surfaces and wastes.
This course also seeks to provide an online training course that covers common aspects of laboratory safety that employers provide to impacted US employees. This training communicates legally required information, and is usually administered prior to starting a task, if the task changes, or as a refresher course.
Finally, this training recommends the best practice procedures that impacted employees can practically utilize to ensure their own personal safety as well as the safety of their coworkers.
BLS/ALS Continuing Education Credits
---
This EMS-CEU ( 3 Hours) course has been approved for 3 Contact Hours (3 CEUs) of BLS/ALS Instructor-based Continuing Education by CE (Provider 56-0013), CAPCE Provider #SUNI0321.
IACET Continuing Education Credits
Effective 11-1-2019
---
Safety Unlimited, Inc. is authorized by IACET to offer 3 Contact Hours (0.3 CEUs) of Continuing Education (CE) for this program.
Safety Unlimited, Inc. (Provider #5660170-2) is accredited by the International Association for Continuing Education and Training (IACET). Safety Unlimited, Inc. complies with the ANSI/IACET Standard, which is recognized internationally as a standard of excellence in instructional practices. As a result of this accreditation, Safety Unlimited, Inc. is accredited to issue the IACET CEU. As an IACET Accredited Provider, Safety Unlimited, Inc. offers CEUs for its programs that qualify under the ANSI/IACET Standard.
Advantages of Safety Unlimited Online Training
---
Self-Paced
There's no need to finish training in a single sitting. Start and stop as often as you want. Our system will track your progress, allowing you to resume where you left off.
Entirely Online
This course is taken entirely online from any computer with high speed internet that meets our System Requirements. No classroom to attend; no travel required.
Certificate
Download, save, or print a certificate after completing your training.
Sample Certificate
Instructor Hotline
Have questions about the course? Contact an instructor by email or Instructor Hotline. Expect a response within 1 hour during business hours -- guaranteed within 24 hours.
6 Months to Complete
Take up to six months to complete your EMS-CE (3 hours) - Laboratory Bloodborne Pathogens (Needle Sharps Program) training.
24/7 Support
Telephone support is available 24 hours per day, 7 days per week, including holidays.
Fully Narrated
Follow along as our narrator talks you through the course.
About This Course
---
Following the completion of all training content and achievement of passing scores on all exams, students will need to complete a brief evaluation and confirm his/her identity. After doing so, the student will have access to the course completion certificate.
This course is divided into six sections. The approximate time to complete each section is shown below.
For Corporate Users, other sections can be added to this course that cover company specific issues. Please contact us for details.
Course Exams
---
This course has a final exam based on the content covered in the course. The exam consists of 10 questions selected at random from a larger pool of questions. A score of 80% or better is required to pass the exam. Students who do not pass the exam the first time may retake the exam as many times as necessary in order to pass.
Accreditation
---
EMS Continuing Education Credits
---
This course is approved for 3 Contact Hours of EMS Continuing Education by approved California EMS provider #56-0013, CAPCE Provider #SUNI0321.
This training meets the requirements for BLS/ALS Instructor-based Continuing Education.
Safety Unlimited's Accreditations
---
Additional Training
---
EMTs require constant training and continuing education. While online training can assist in an EMTs training, receiving hands-on training is also important.
Training providers should be used to ensure credibility and augment an employer's training program. Therefore, in addition to the training provided by an outside party, students should receive site-specific training that is supplied by his or her own companies. This training should target the company's unique approach to hazard prevention, including the use of site-specific equipment, health and safety policies, and emergency procedures. As a rule, this company specific training should be well documented.
The bottom line in ALL SITUATIONS is that employers are required to ensure that their employees are adequately trained to do their job.
Volume Pricing
---
To learn more about our volume discounts for this training, visit our Volume Pricing page. We also offer an easy way to Enroll Multiple Students.
Save 20% On Select Courses
---
We're Celebrating 20 Years With 20% Off our most popular online training. No coupon code necessary!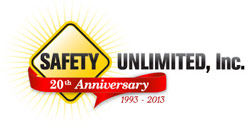 Online Training with Mobile Devices
---
With so many people using mobile devices (e.g. tablets and smart phones) to check emails, do business, connect to social media, and even enjoy movies, Safety Unlimited, Inc. knows it's time to make some changes.
We're excited to announce that our courses are now available in HTML 5, making them compatible with the browser on your mobile device. Our mobile-ready courses require only the most recent version of your mobile device's web browser, allowing students to take the course anywhere they have an internet connection.
Our Learning Management System tracks your progress, allowing you to switch between your computer and mobile device without retaking any training content. You can stop training in the middle of a section on one device and pick it up at the same spot on another. There is no need to complete an entire section in order to move from one device to another.
We are working on making ALL of our online courses MOBILE DEVICE READY. This gives you, the customer, the choice and flexibility to take our online training on your desktop, laptop, or handheld device, wherever you may be. You now have complete control of when and where you would like to take your online training!
Mobile Pros and Cons
---
Mobile versions of training are new, but we've identified some Pros and Cons during our extensive testing and listed them below.
Pros
No computer needed
Tablet mobility
Tablet screen graphics
Cons
Smartphone screens can be too small to see
Mobile browsers react differently than computer browsers
Phone calls can interrupt training
During our testing we noticed tablets are much better for training than smartphones, due to their larger screen size. … The best way to see how well the training works on your device is to click on the DEMO button on this page.
Growing Pains
---
Because this is a Beta version of our course, you may encounter some issues as we work out the kinks. If you have difficulties with this course, please contact Customer Support.
Your Mobile Browser
---
While HTML5 makes taking this course on mobile devices possible, not all mobile browsers are optimized for HTML5, meaning you may not have complete functionality. If you have difficulty taking this course using the browser on your mobile device, you may need to use a different browser.
Test the functionality of your browser using HTML5 and compare it to the performance of other browsers. If you find other browsers are more compatible than your own, you may want to make the switch.
Frequently Asked Questions About Online Training
If you do not find your question here, we have more FAQs
---